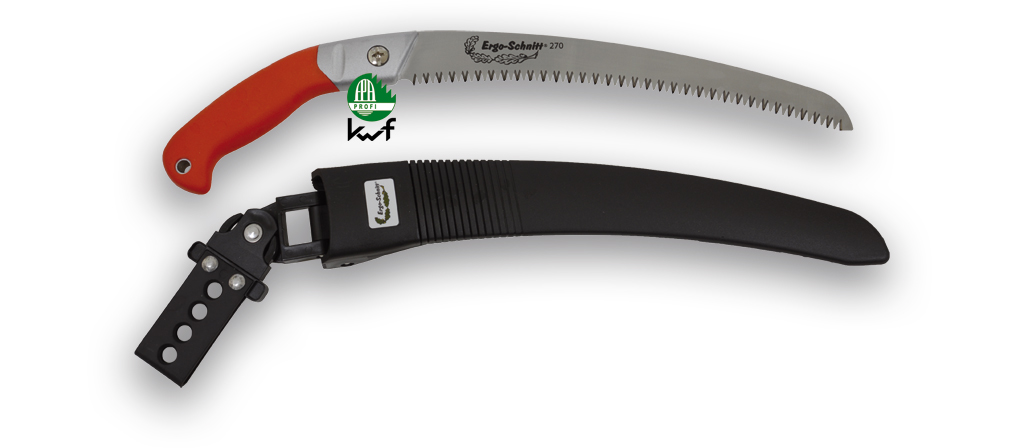 match products (Hand saw Ergo 270)
The hand saw is made of the best SK4 Japanese steel. As a result, these saw blade is very elastic. The saw blade has a hard chrome coating, as well as inductively hardened rows of teeth. The saw blade is ground thin to the rear of the blade. The curved saw blade is with middle or fine tooth pitch available. The saw has special tooth positions in the rows of teeth so that the span is conveyed better out of the cut. Suitable for fresh and soft wood as well as dry hard wood.

Due to the new fine saw blade "Ergo 270-3 Fine" for our Ergo 270, you are able to saw fine branches much smoother and to receive a more plane cutting surface. The cambium tears out less. You are able to saw harder wood much easier, more effectively and more efficiently as well.
Product features:
Item number:
Article:
Tooth pitch:
Weight:
ERS270
Hand saw Ergo 270-4
middle, 4 mm (0.16 in)
281 gram, 9.91 oz
ERS2703

NEW

Hand saw Ergo 270-3
fine, 3 mm (0.12 in)
281 gram, 9.91 oz
Scope of application:
- municipal
- gardening and landscaping work
- orcharding
- viticulture
- gardener
- forest
Product details: